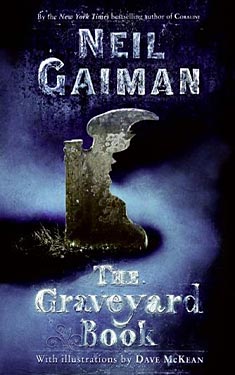 "People want to forget the impossible. It makes their world safer."
-Silas
After his family was murdered when he was just a baby, Nobody "Bod" Owens grew up in a graveyard, parented by the ghosts of a married couple and guarded by a tall, dark, mysterious man named Silas who is neither living nor dead. The man who killed his family is still out there, waiting until the time is right to finish him off as well. And although the graveyard protects him, Bod wants to explore and meet others like him– which means exposing himself to his family's killer.
The premise of this book is mysterious and strange, but beautiful nonetheless. It's not your average fantasy story, of course; it's bent on showing the "good side" of monsters and creatures we were all afraid of as children, while still being extremely dark.
I really liked the book while reading it, but I think the fan theory about Silas was what made me step up into loving the book. The theory that Silas is actually a vampire never occurred to me while I was reading, but after thinking about it, it made a lot of sense (actually, after thinking about it, I felt stupid for not getting it sooner– but apparently a lot of people were in my same situation) appreciate that Neil Gaiman didn't stick to the vampire stereotypes that circle today. He was my favorite character in the book by far, and the realization that he was actually a vampire made me love him (and the book) even more.
Although I thought the book was absolutely great, I really disagree with one of the reviews featured in the version I read, which stated it was "a book for all ages." The novel begins with a man murdering three people and attempting to murder a baby, and the entire plot circles around Bod not being allowed to leave the graveyard in case of being killed by the same man. There are creatures in the book called the Indigo Man and the Sleer, which I believe could definitely be nightmare-triggering to some children. And there's a chapter where Bod is kidnapped by Ghouls and taken through what seemed to be a portal to the Ghoul world, which I definitely wouldn't recommend any children to read. Yes, I do love how they portrayed werewolves and mummies and ghosts and vampires to be the good guys, but there are still bad guys in the book.
So, in general: Neil Gaiman is fantastic, The Graveyard Book is fantastic, Silas is fantastic, and I can't wait to hear more. And, again, I've heard rumors of a movie going around. According to Wikipedia:
Irish Academy Award-winning filmmaker Neil Jordan signed on to write and direct a film adaptation, which as of January 2010 was in pre-production. In April 2012, however, rights to the adaptation were acquired by Walt Disney Pictures. Henry Selick, director of The Nightmare Before Christmas and the film adaptation of Gaiman's novel Coraline has been chosen to direct The Graveyard Book. Like most of Selick's other films, it is probable that the film will be stop-motion animated, although that decision has yet to be confirmed by Selick himself. However, in the wake of Disney choosing to cancel another Selick project, The Shadow King, Disney appears to be seeking another director, one possible candidate being Ron Howard.
A possible stop-motion film adaption in the future would be brilliant, in my opinion, as I loved Coraline and I could definitely see another of Neil Gaiman's novels shining in stop-motion, especially certain characters.
Okay, well, I think that's mostly it. Sorry about the delayed review once again– I was so caught up in the Doctor Who marathon and 50th anniversary episode that I didn't even remember I'd finished this book. (By the way, Doctor Who— wow. I know I shouldn't be discussing it here, and no spoilers for any fellow Whovians out there, but seriously… wow. I'm absolutely thrilled.) I should have the review of the Hush, Hush series by Becca Fitzpatrick up either tomorrow or Monday, so I'll see you soon!
-J